Loose hair
Sometimes you can become completely obsessed with the loose hair. Loose hair is going to happen no matter what you do, it's normal and everyone has them. Overtime my dreadlocks have gone through phases of having loose hair and not having so much, the sooner you stop worrying about it, the happier you will be.

You'll find you get way more loose hairs when it's summer and humid and everything will calm down in winter. If you really need them out of your face, then you can't go wrong with a wool hat/beanie/tam. The wool rubbing encourages frizzy hair and new knots, while also keeping the loose hairs out of your face. Failing that you can always just use a headband to hold them back and forget about them.
If it's a make or break situation and you need them neatening up, you can crochet the hair into it's nearest dreadlock. If you do this over and over again for all the loose hair you can end up giving the dreadlocks an unnatural texture that might not be even across your whole head, but it does work if you can get the technique down. The major problem with crocheting though is that overtime you can really damage your hair. Every time you punch the crochet needle though the dreadlock you're breaking the hairs. So if you do this a lot and break enough hairs it's possible that the dreadlock can pull apart / fall off, especially when they get heavy as you wash them.
I strongly believe that palm rolling is a myth. It's peddled a lot by the companies selling dreadlock products, mainly as a way of rubbing the product into your hair. Palm rolling is when you take a dreadlock and roll it between your two palms - back and forth. Short term you might manage to stick a few hairs into a few dreads but chances are you'll be back to square one once you wash them again.
Rubber bands sometimes recommended to help tame the loose hair. Often they will be placed with one at the root and one near the tip, sometimes with another in the middle of the dread. The problem with rubber bands is that the dreadlock will absorb them over time. Loose hair will dread over the top of the band and so you can end up with rubber bands buried inside your dreadlocks. So I wouldn't recommend rubber bands.
Loose hair will sort itself out over time, either by locking into surrounding dreads, or by forming they're own new dreadlocks. The hair behind my ears and at the top of my neck stayed loose for a very long time, but eventually the hairs naturally formed their own dreadlocks that then locked into larger dreads.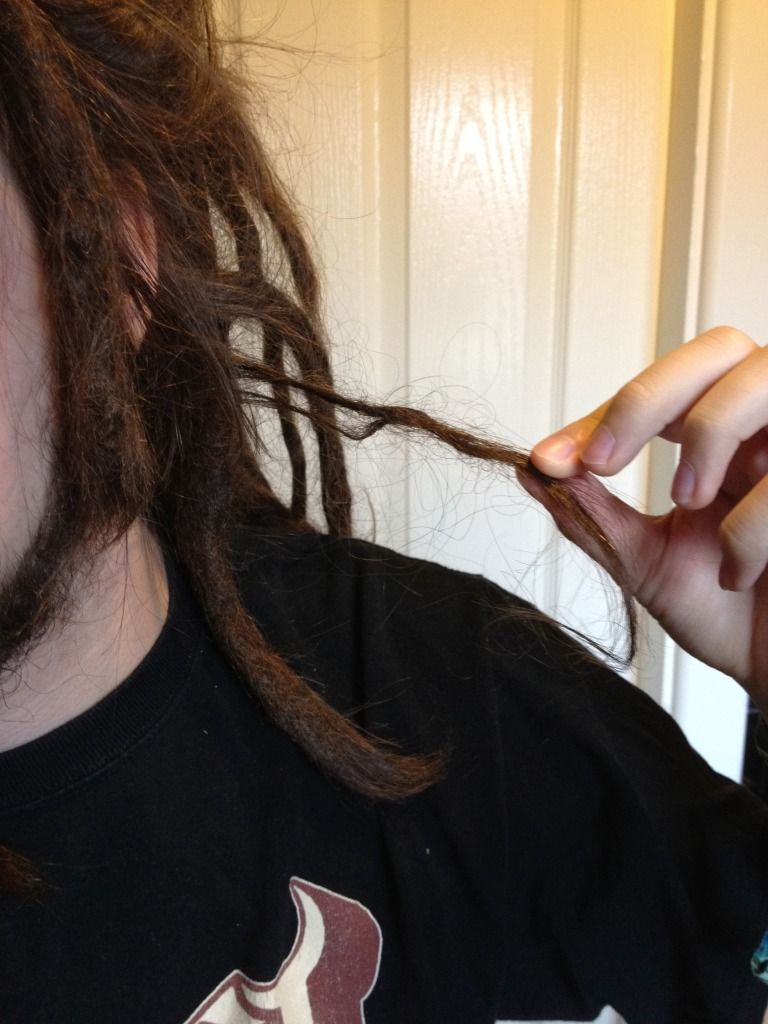 Here you can see a newly formed baby dreadlock that has formed from just the loose hairs by itself.
Roots and Tips
Ok, so we're talking about the roots and the dreadlock-tips specifically now. These are the areas that bother people the most. When your roots aren't dreading then you feel like they're going to grow out and when the tips are loose it looks and feels like it's all falling apart. Fear not! neither are areas you should worry about in the long term.
The roots are going to take a while to get to the point that most people would really like because that only occurs when your dreads have matured. The longer you have your dreads and the longer you leave the roots to their own devices, the faster you'll find that loose section between root and dread start to shrink. For the first year or so it's completely normal to have an inch or two of straight hair before the dreadlock really starts. There isn't much you can do about it. If you take the dread and rub the base in a clockwise motion against your head it is possible to encourage the root tightening, but I wouldn't over do it because you can make your scalp sore. This is obviously normally referred to as 'Clockwise Rubbing'. Do not resort to 'Root Flipping'. This is where you take the tip and thread it through the loose root - temporarily making it tight. Overtime this threading will damage the root and split it, meaning you'll still have the single dreadlock, but it will be linking to your head with two roots.
For the tips, some people like the thin whispy ends and others like the blunt ends. With new dreads it's normal to have loose hair/whispy ends. This can often look a little wild and messy but is actually beneficial for drying. The thin loose tips allow the water to run out of the dreads much faster than the chunky blunt ends. Rounded blunt ends take time to form. You can rub the tips between your thumb and forefinger to encourage the locking and you can cut off some of the loose length to make them look a little neater. If you want whispy-er ends then you just have to either brush or pick at the tips with a needle to get some loose hair out. But whispy ends normally form by themselves when water runs through them.